Through Belgrade Gets Digital platform, as a part of Venture an Idea project, Nova Iskra will provide relevant and important information about the local ecosystem, legal and administrative procedures, but also about the culture and business opportunities for the entrepreneurs and professionals already living and working from Belgrade or the ones that are thinking of choosing this city as their desired destination to work from.
The platform will be the source of information about the local digital ecosystem. Nova Iskra, within the project, will focus on some of the aspects of development and improvement of knowledge exchange in the startup ecosystem, work with international professionals, digital nomads and co-founders who are recognizing Belgrade as the digital and innovation hub in the region.
Below we have singled out some of the latest information and insights from the local ecosystem.
Belgrade digital ecosystem through a digital nomad's looking glass
Johannes Hindler, the founder and CEO of VIZZ with a background in digital marketing and organization development, is one of the many digital nomads working from Belgrade. His goal is to make a positive impact in the world by helping businesses and purpose-driven organizations. Hindler's clients are based in his native Austria and the UK, but he managed to set up his business fully remotely. The Austrian is working on creating his personal network, and he has already managed to find a web developer and a social media expert. Great access to talent that you can connect with — and that you can work with for a reasonable or fair price — is one of the things that he singles out as a benefit of being a digital nomad in Belgrade. Of course, there are also some drawbacks of Serbia as a nomad destination. Even though the administration people are helpful and nice, there is still some necessary information for foreigners written only in Cyrillic, without an English version available.
Launching of the Venture an Idea project and first Belgrade gets digital meetup
Venture an idea – from innovative ideas to world renowned startups
Bearing in mind facts such as those set out by Johannes Hindler, as well as other opportunities and shortcomings characteristic of the domestic market and the digital ecosystem, Digital Serbia Initiative and the American Agency for International Development (USAID) has launched the Venture an Idea project, which will, in the next four years, together with the following partners- Startit, PWC, Faculty of Organizational Sciences and Nova Iskra, develop various partnerships and activities with the aim to support both existing and future entrepreneurs on their path from innovative ideas to world-renowned startups. The consortium gathered around the Digital Serbia Initiative will focus on the promotion of entrepreneurial thinking, strengthening the link between the academic community and the private sector, encouraging multidisciplinary approaches in the development of innovation and other topics important for the further development of the innovation ecosystem of Serbia.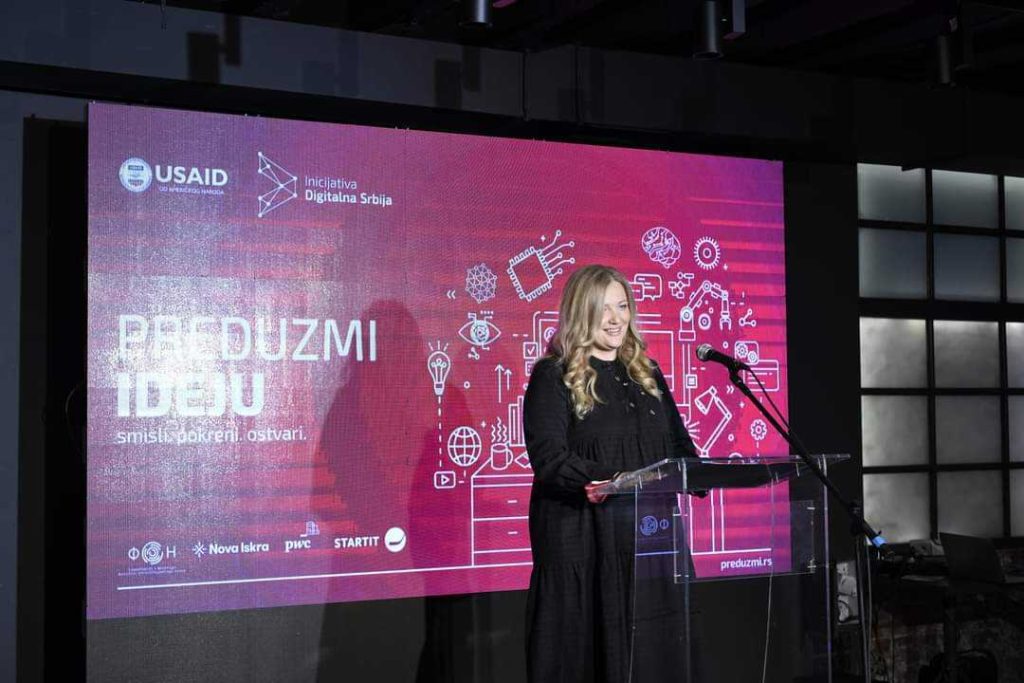 Belgrade Gets Digital meetup #1
Within the project Venture an Idea, the first Belgrade Gets Digital Meetup was held on Thursday, November 18, organized by Nova Iskra as one of the partners in the project. It is aimed to support both existing and future entrepreneurs on their path from innovative ideas to world-renowned startups. One of the main focuses will be on the development and improvement of knowledge exchange in the startup ecosystem, working with mentors, advisors, research and development partners, and co-founders between Serbia and more developed markets.
In the last few years we have seen a great jump in the number of international professionals and digital nomads choosing Belgrade as a destination and place to live and work from. Numerous coworking spaces, startups, and digital companies have already welcomed, accommodated and collaborated with numerous professionals from all around the world. Belgrade Gets Digital Meetup is a place for networking, sharing knowledge and experience, and will create opportunities for new connections, collaborations and partnerships within the local ecosystem.